fiberglass
Just finished this Tom Morgan 7' 3wt with a classic twist.
Brushed aluminium with a POM butt as hardware.
The Snake brand guides and the black perfect agate are wrapped with dark claret Pearsall's gossamer.
This rod and reel is going to a nice fisherman in Japan.
Ijuin rod "Hard Para" Beni 7'05" 4wt This great rod is finished with an EVA ventilated tapered Ritz style grip, insert is bog oak and.the hardware is made of blued nickel silver. All turned in house The Joe arguello stripping guide and the Snake brand guides are wrapped with Kimono silk. For this special occasion I gave the red rod also a red rod sock. This rod is via Alternative Tackle on his way to the owner in the US
This rod is made for Mike of Wooly Bugged what finally ends up in a nice collaboration.
The rod is finished with a Ritz style grip, a bit swelled insert what is made of Flamed Mutenye wood and is matching good with the colour of the blank. Hardware of the insert is made of polished nickel silver, slide ring and brass butt are brushed.
Joe Arguello and Snake Brand guides are wrapped with Kimono silk.
Even the Approach Genesis reel is matching nicely with the rod.
Check his website www.woolybugged.com and his you tube channel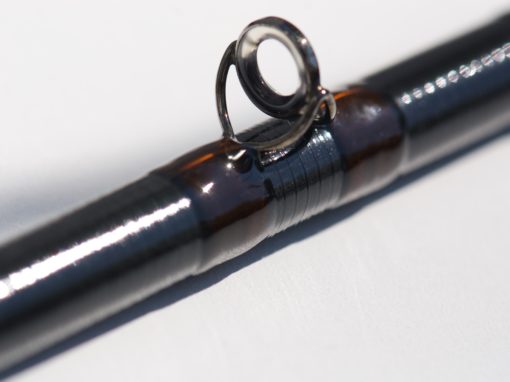 Here 3 finished rods of the Black Pearl what I recently built in the colours orange purple and red. The orange and Purple are finished with very nice old bog Oak what still has some wood structure with a soft satin shine. the red one is finished with a Palmera insert. All are finished with blued Nickel silver hardware. The purple stripping guide is from Perfect guides ,the red and white are both of Joe Arguello.